"[Lot of 5 - Map and Print Collecting]",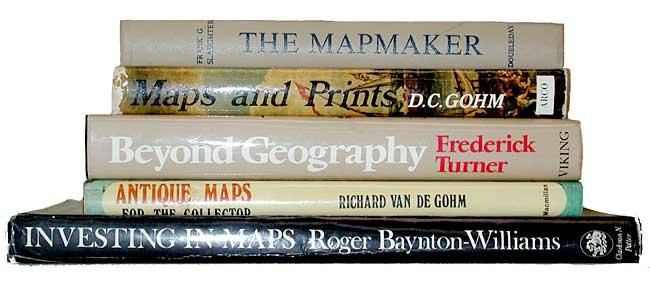 Subject: Reference Books
Period:
Publication:
Color:
Good lot of books covering antique maps and prints. All hardbound with dust jackets except #1, which is lacking the dust jacket.
1) "The Mapmaker" by Frank G. Slaughter, Doubleday & Co. NY, 1957, 8vo, 320 pp.
2) "Maps and Prints for Pleasure and Investment" by D.C. Gohm, Arco Publishing Co. NY, 1969, 8vo, 190 pp., illus. in BW and color.
3) "Beyond Geography - The Western Spirit Against the Wilderness" by Frederick Turner, Viking Press NY, 1980, 8vo, 329 pp.
4) "Antique Maps for the Collector" by Richard Van De Gohm, The Macmillan Co., First American Edition, 1973, 8vo, 157 pp, illus. In BW and color.
5) "Investing in Maps" by Roger Baynton-Williams, Clarkson N. Potter Inc. NY, First Edition, 1969, 4to, 160 pp., illus in BW and color.
References:
Condition: A
Minor shelf wear. Some with previous owner's signatures on endpapers.