"[Lot of 4 - Colonial America]",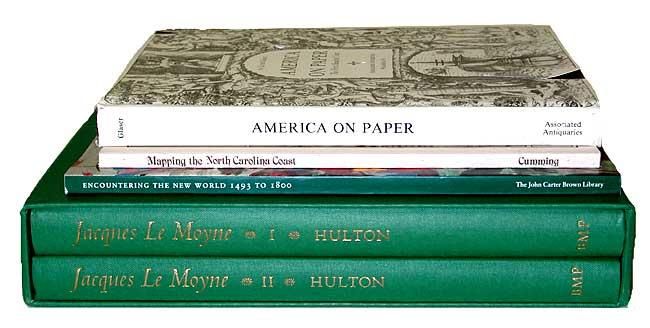 Subject: History - Colonial America
Period:
Publication:
Color:
Good lot of books covering early exploration in the New World.
"Mapping the North Carolina Coast Sixteenth-Century Cartography and the Roanoke Voyages" by William P. Cumming, 1988, 143 pp., BW illus., 4to, paper covers.
"America on Paper The First Hundred Years" by Lynn Glaser, Associated Antiquaries, Philadelphia, 1989, 252 pp., BW illus., 4to, hardbound with dust jacket.
"The Work of Jacques Le Moyne de Morgues" Vol. I & II, forward by Paul Hulton, British Museum Publications, London, 1977, Vol. 1 - 241 pp., Vol. II - 144 plates in BW and color, small folio, hardbound in slipcase.
"Encountering the New World 1493 - 1800" Catalogue of an exhibition by Susan Danforth, with an introduction essay by William H. McNeill, John Carter Brown Library, Providence, RI, 1991. 87 pp., illus in BW and color, 4to, paper covers.
References:
Condition: A
All very good to fine. #2 with tears on dust jacket.