"[Katagami Mulberry Paper Stencil]",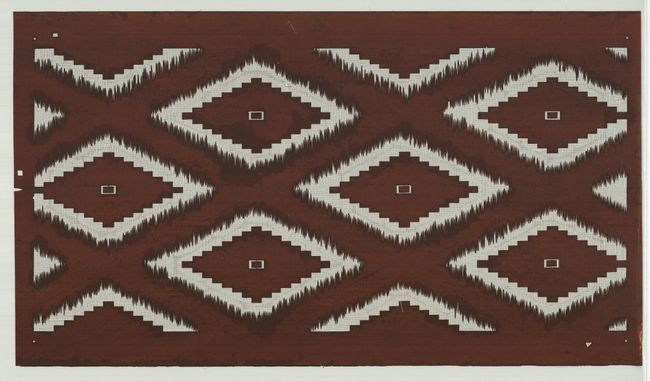 Subject: Miscellaneous
Period: 1920-30 (circa)
Publication:
Color:
Size:
31.3 x 17.8 inches
79.5 x 45.2 cm
This fabulous pattern was made in Japan using the centuries-old Katagami method of creating textile design patterns using stencils made from mulberry paper. The paper is several sheets glued together for strength and coated with tannin extracts from persimmons to make the paper waterproof. With the stencil resting against the fabric to be dyed, rice paste is applied to the cloth through the stencil. With the stencil removed, the cloth is dyed with the dried rice paste resisting the dye resulting in a "negative" image. This laborious process produced the beautiful cloth used in the making of kimonos and other fine textiles. The patterns are cut with thin knives and fine punches with the opening reinforced with fine silk strands or human hair in early 19th Century examples. The hand cut stencil patterns are remarkably intricate and required the skills of a master. Katagami fell into decline after WWII with the few remaining practitioners now included in Japan's "Living National Treasures" program. Read more on this delicate process here. This stencil is in an ancient geometrical pattern seen for centuries on other cultures' textiles and weavings.
References:
Condition: A
The pattern is fine. This is not a made for tourist piece, but a real working stencil as evidenced by the holes and wear to the wide end margins.