"[Lot of 3 - Cartographic References] Bibliotheca Geographica… [and] Collections of Maps and Atlases in the Netherlands",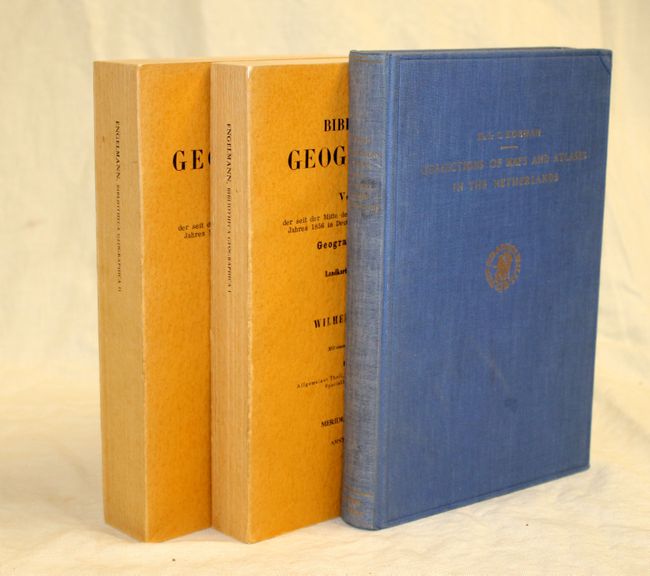 Subject: Reference Books
Period: 1961-65 (published)
Publication:
Color:
Size:
See Description
A. Bibliotheca Geographica. Verzeichniss der seit der Mitte des 18. Jahrhunderts bis zu Ende des Jahres 1856 in Deutschland erscheinenen Werke uber Geographie und Reisen. by Wilhelm Englemann, published 1965 (facsimile), black & white, (6 x 9"). This was a trade catalog originally published in 1857 with more than 10,000 major entries for geographies, travels and maps. Two volumes with 520 pp. in volume one and 1225 pp. in volume two. German text. Paperbound. Condition: (A)

B. Collections of Maps and Atlases in the Netherlands: Their History and Present State by Dr. C. Koeman, published 1961, black & white, (6.5 x 9.5"). Contains: I. Introduction. II. Maps and atlases in libraries and collections of the 16th and 17th century. III. Maps and atlas in libraries and collections of the 18th century. IV. Maps and atlas collections, auction system and antiquarian bookselling in the 19th century. V. Frederik Muller; his importance for the study of the history of cartography. VI. Bibliography of atlases, published in the Netherlands before 1800. VII. Inquiry into the map and atlas resources of the Netherlands. Includes two fold-out charts depicting the relationship and succession of Dutch cartographers and their works along with five plates. 301 pp., hardbound in blue cloth covers with gilt title on front cover and spine. Condition: Covers and spine are somewhat worn, else fine. (A)
References:
Condition:
See description above.