"[Lot of 6] A Bibliography of Printed Battle Plans of the American Revolution 1775-1795 [with] Map Collection in the Pennsylvania State Archives [with] The Mapping of New Jersey [with] Maps of Connecticut [with] Rhode Island [and] Manhattan", Various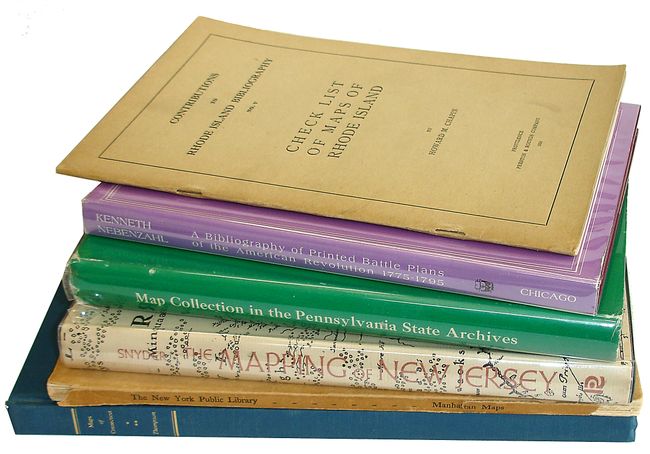 Subject: Reference Books
Period: 1973-76
Publication:
Color:
Size:
See Description
1) "…the first complete list and description of the battle plans of the American War of Independence that were printed between 1775 and 1795." An essential reference for historical research Nebenzahl, Kenneth, Chicago, 1975. (5.8 x 9") Original hardbound in burgundy cloth with white title on spine, and an illustrated dust jacket. Near fine condition.

2) Descriptive List of the Map Collection in the Pennsylvania State Archives. A catalogue of 713 maps in the Principal Map Collection (MG 11). Simonetti, Martha L., Kent, Donald H., Whipkey, Harry E., Harrisburg, 1976. (6.5 x 9.3"). 8vo. Original hardbound in green cloth with gilt titles on front and spine. Includes a dust jacket and plastic protection.

3) A terrific state cartographic history that is illustrated with numerous black and white images including maps, plans and photographs. Snyder, John P., 1973. (6.5 x 9.5"). 8vo. Original hardbound in green cloth with white title on spine. Decorative dust jacket and plastic protection included.

4) Terra Nova Press reprint of this interesting, scholarly work that is extremely rare in the original edition. As the publisher of this reprint states, "There are few great America carto-bibliographies and Thompson's Maps of Connecticut is one of them. Unfortunately, this insightful work is almost unknown because of its extreme scarcity!" Two volumes in one. Vol.1 includes maps before the year 1800; Vol. 2 includes maps for the years 1801-1860. 177 pp., illustrated. Thompson, Edmund, 1940 and Maps of Connecticut for the Years of Industrial Revolution 1801-1860. Thompson, Edmund, 1942. 1995. (7.5 x 10.8"). 8vo. Hardbound in blue buckram with gilt titles.

5) Contributions to Rhode Island Bibliography No. V Check List of Maps of Rhode Island. Chapin, Howard M., Providence, 1918. (6 x 9.2") 48 pp. 8vo. Original brown paper covers. Light toning, otherwise very clean and sound for its age.

6) A very thorough checklist with descriptions of 1,194 maps chronologically arranged from 1600 to 1930. Illustrated with two black and white maps. Haskell, Daniel C., New York, 1931. (7 x 10"). 128 pp. 8vo. Original brown paper covers. Some loss on spine and remnants of an adhesive label on front cover. Light soiling on fore edges.
References:
Condition: A
All are very good with #6 having a split on spine and cover toned.